Noble Qur'an Arabic-English (Large HB)
Code Q42
ISBN 9781591440017 (1591440017)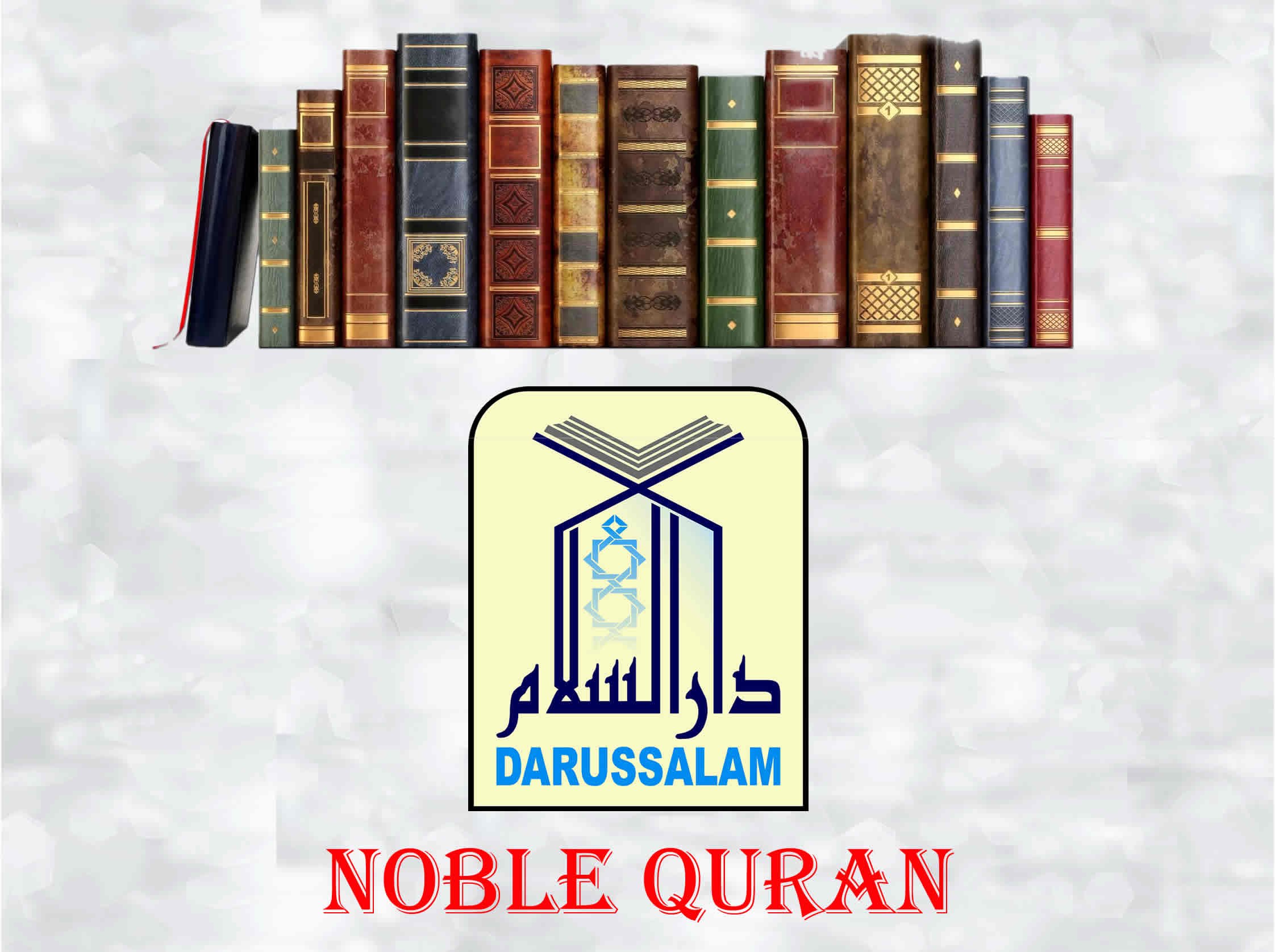 Buy with an account and earn 17 loyalty points. Your cart will total 17 points worth $1.70 for future use.
Subscribe To When In Stock
You have successfully subscribed to this product
| | |
| --- | --- |
| Translator | Dr. Muhsin Khan & Taqi-ud-Din Hilali |
| Binding | Hardback |
| Pages | 868 |
| Size in Inches | 7x9.75x2.5 |
| Size in CM | 17.5x24.5x6 |
| Edition | 1st - December 2011 |
| Weight (lbs) | 2.95 |
The Noble Quran summarized in one volume by:
Dr. Muhammad Muhsin Khan and Dr. Muhammad Taqi-ud-Din Al-Hilali (click on names for biography)
Interpretation of the meanings of the Noble Qur'an with Arabic text in the modern English language. A summarized version of At-Tabari, Al-Qurtubi and Ibn Kathir with comments from Sahih Al-Bukhari.
This summarized 1 volume version offers brief commentary and Ahadith wherever necessary. This unique combination of commentary and relevant Ahadith makes this a very useful study reference tool. The Arabic text is taken from Mushaf al Madinah.
Note: The content of all the Noble Qur'ans is the same... only the text size is different. The editions may vary slightly within the different sizes.
Old code # for this item was Q01a. Alternate for Q43 / Q01b 6x9" size.
Holy Quran

It\'s very beautiful and nice but I have ordered a couple from Amazon looks nicer with blue colors pages .
Please list Arabic books titles on your website not only English but both . Thank you I\'m going continue order from you guys .
Quran

I already have the smaller edition of this Quran, however as I get older I found I needed larger print. This is an excellent edition, easy to read English. Thankyou
Excellent Product

Just beginning my journey with the Quran on a meaningful level and this has been SO INCREDIBLY helpful. I love the formatting, font, color, ease of use. The translation is comprehensive and the added hadiths and other facts really bring what I'm reading into context. If I could go back, I would make this purchase again and I would certainly recommend it to anyone else who's looking for a quran with good translation.
Beautiful Qur'an with English translation

The commentaries are also so helpful in understanding for newer converts. Thank you!
The Noble Quran

Words of God what else needs to be said♥️
QT24

Very nice legible and intact
I love it

I love how they packaged my item and the shipment was really fast.
Good book

Happy with the Quran. Came on time. Get the Quran. A.S.A.P
Great product

Excellent product
muslimah

perfect fast delivery it was my first order and will order from here again
Noble Qur'an Arabic-English

I very please with my Quran. My eyes have gotten bad over the years and I needed a Quran I could actually read.
A+

I am really happy to bought some books and CD from you because it's good prices and fast shipping. And valuable books.
Excellent work!

Excellent service and delivery time! May Allah reward for the good work your company is doing.
Nobel Qur'an

Wonderful I just love my beautiful. Holy Book. Do you have any books on the differnt stories that are in the Quaran.?
This Qur'an's English Letters are Awesome.

This is a beautiful Qur'an. I hadn't have before such a beautiful Quran like this.
Excellent service...

Awesome product and fast shipping! Will, continue to do business with you. Thank you!
NOBLE QUR'AN ARABIC-ENGLISH

GREAT BOOK I WILL GIVE IT A 10. Lots to study and learn, very intense and highly motivated.
Allihamdullillah! I Love this Qur'an

I will recommend this Qur'an to anyone looking to get one of the best translations.
Best

Best service ever up to date emails very professional thank you
Very nice

A very nice Tajweed Quran for urdu speakers. The shipment was fast. Thanks Dar us salam.
Quran

Good Quality
Noble Quran

Great
Alhamdulillah. My favorite printing of the Quran

This is such a beautiful Quran and it is such excellent quality; the design, thick paper, and larger text size is wonderful.
Nice

Shipping was prompt and swift. Thanks!
Alhumdulila very nice!

Customer Review

This translation of the Quran was the first translation that I bought although not this particular product [it was published by King Fahd Quran Complex], but very recently I bought this product and believe me it's a master piece in binding, superb hard cover and beautiful paper.
Customer Review

By far the best translation and the green pages are easy on the eyes. May Allah reward all that have been involved in the noble Quran translation and publication. Much needed for the English speakers.
Customer Review

This is one of the best Qurans I ever had. Alhumdulillah
Customer Review

MASHA-ALLAH. May ALLAH bless the scholars who were able to translate the glorious Quran for the non-Arabic speakers. Wonderful and insightful commentary which helps understand the Quran better. I highly recommend any beginner who wants to not only read the Quran in Arabic but also understand its meaning closest to the original Arabic meaning,
Customer Review

This is a good Translation. I have this Quran and I get one every time one of my nephews and nieces graduates from high school to give them as a gift. The footnotes are the best in connecting the Hadise with the Quranic Text and the English translation.
Customer Review

salam alaikum, as a recent revert to Islam, this Quran is the one I recommend to others like myself and others. Very excellent commentary notes included, sturdy page paper, sewn binding, easy to read print size. Very quality for the price. Alhumdulillah