Noble Qur'an Arb/Eng with Transliteration in Roman Script
Code Q04
ISBN 9789960740799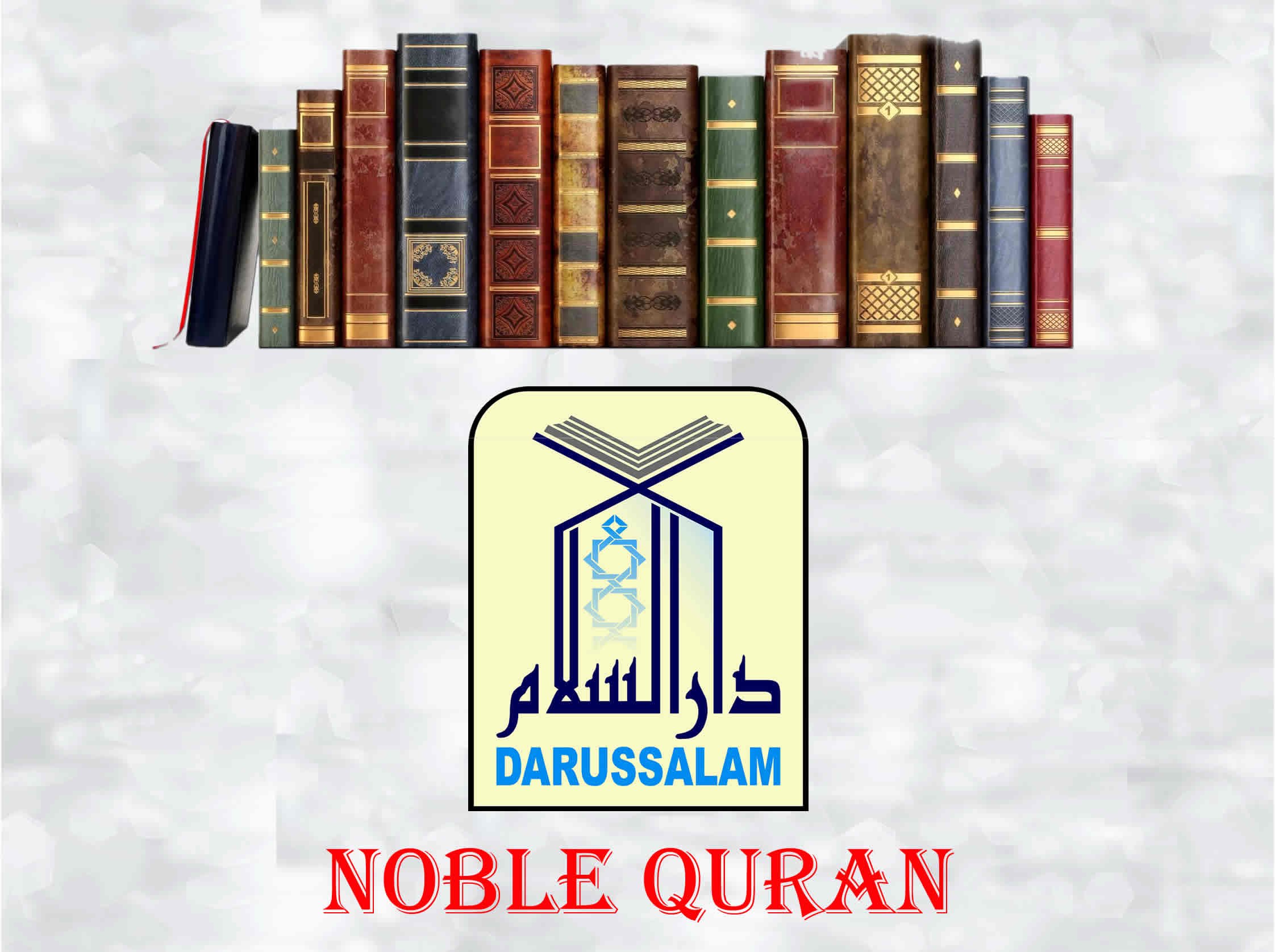 Buy with an account and earn 15 loyalty points. Your cart will total 15 points worth $1.50 for future use.
Subscribe To When In Stock
You have successfully subscribed to this product
| | |
| --- | --- |
| Translator | Dr. Muhsin Khan & Taqi-ud-Din Hilali |
| Binding | Hardback |
| Pages | 752 |
| Size in Inches | 7x10x1.8 |
| Size in CM | 17x24x4 |
| Weight (lbs) | 2.82 |
To read the Arabic text of the Qur'anic Verses in their correct form is of prime importance to every Muslim, as the meanings of the Arabic words are changed with little changes of the diacritics. So, to help those readers and reciters who are not too familiar with the Arabic language or cannot read Arabic, Darussalam has prepared this edition of the Noble Qur'an inserting the transliteration of the Noble verses along with their translation. It is hoped that this presentation will be of great help and benefit in this regard.
PREFACE
All praise and thanks are Allah's, the Lord of Alamin (mankind, jinn and all that exists) and peace be upon the Master of the Messengers, Muhammad (S). This interpretation of the meanings of the Noble Qur'an has been revised and the following changes have been made:
Each Verse has been put separately with its English interpretation.
The Arabic text of the Noble Qur'an has been taken from Mushaf Al-Madinah An-Nabawiyyah, which has been printed by the Mujamma' of King Fahd of Saudi Arabia for the printing of Al-Mushaf Ash-Sharif in the year 1405 A.H., according to the instructions of the Vice-Chancellor of the Islamic University, instead of the old Arabic text of the previous print of this book which was printed in the United States and Turkey, by the Turkish Calligrapher Sheikh Hamid Al-Amadi.
There are some additions and subtractions of Chapters and Ahadith from Sahih Al-Bukhari and other Ahadith collections.
Some additions, corrections, and alterations have been made to improve the English translation and to bring the English interpretation very close to the correct and exact meanings of the Arabic text.
One more column is added in this particular edition of the interpretation of the meanings of the Noble Qur'an, providing the readers the transliteration of the Arabic Verses along with their translation. It is hoped that the readers will be able to recite the Noble Verses in correct way taking the help of transliteration.
Translators: Dr. Muhammad Taqi-ud-Din Al-Hilah & Dr. Muhammad Muhsin Khan
A NOTE FROM THE PUBLISHER
Islam is a heavenly system (or regime) for all the dwellers of the earth, and it is a mighty treasure if only mankind realizes its authenticity and truth. And in what a great need the whole world is today for real understanding and thorough studying of its rules and regulations. And how many disasters, calamities and wars, the mankind of the whole world is suffering because of their differences in their Faith.
Invitation to Islam is incumbent upon all those who have known it, and have enjoyed its taste and have been guided through its guidance. So we are presenting the interpretation of the meanings of the Noble Qur'an which is completed and printed with the Help of Allah. All praise and thanks are Allah's, with whose blessings are completed the righteous deeds. Peace. Blessings and Graces of Allah be upon our Prophet Muhammad, his family and his Companions.
Allah has sent Qur'an to us through His Messenger Muhammad. This Noble Book provides us guidance in all respects whether it is a matter of life or death. It is incumbent upon us to recite the Noble Qur'an as much as we can, and as correct as we can. The Prophet Muhammad; has said: "The best of you is he who learns the Qur'an and teaches it."
So, to learn it correctly and teach it correctly, we have to care about the correct pronunciation of the Arabic words. To provide ease with the correct pronunciation of the Arabic words, we are producing this special edition of the Noble Qur'an incorporating in it the transliteration of the Arabic Verses. It is hoped that this edition will help greatly in this regard.
Lastly, I thank all the brothers who participated in the accomplishment of this colossal work particularly brother Abdul Ahad and brother Mohammad Munawar who checked and rechecked, again and again, the manuscript with great perseverance. May Allah the All-Mighty bestow on them a great reward in this world and in the Hereafter.
ABDUL MALIK MUJAHID
General Manager
Darussalam, Publishers and Distributors
Holy Quran ( index page missing/not printed/blank)

Salam waleyqum, the purpose of this is not to complain but just to let you know that there is a page missing which is absolutely fine with me. However if you could kindly send me a copy of that page with the same font /design ( printable version) then I could print it myself and stick it in there with glue/adhesive. I didn't want to write but since I got this email asking me to review other than that ALHAMDULILLAH I am very very happy with my purchase. ALLAH KNOWS BEST.
Answer:
Regarding your review below, please let us know the page numbers that you need sticker for. A picture for the adjacent page would be helpful to confirm that the edition didn't change.
Great book.

Came wrapped and untouched. Beautiful book. Masha'Allah
Salaamu aleykum!

It was very good!
Noble Quran

Enjoying the english translation and transliteration
Salaamu aleykum!

Very good book!
Quran!

Its the best book ever!
Alhamidallah

No more excuses. I've always wanted to complete the Quran but my Arabic isn't that great. Having the transliteration and translation helps me not only read but understand what I'm reading.
Nible Quran

Nicee!
Excellent

Al Hamdu lillah, excellent...
Nobel Quran

Worth every penny
Great Item

This is so easy to read and also to learn how to pronounce.
I love the transliteration and definitions

Very simple to understand and read in transliteration! :)
Noble Quran

Excellent. Everything I ever wanted
Happy

I am very satisfied with my Noble QUR'AN
Islam

Asalaamu 'Alaikum . Subhanaka allahumma
Good quality

Great book with good english translation
KG

Love the book, will order again
Ibrahim

Shipping was prompt with the transliterated Noble Quran details as advertised.
Books

I love my book!!! I'm time & in excellent condition
Noble Qur'an ARB/ENG with Transliteration in Roma

Excellent product. Excellent service.
Very good quality

I bought it for my wife to learn to read, she love it, thank you, it's exactly what she was looking for and t
Noble Quran

Great Shokran JazakAllah kheir
Qur'an

My friend recieved it and loved it. It is beautiful and exactly what he wanted. He was very proud to have it.
Great quran

I like this translation-it is easy to understand and makes the message of Allah very powerful to the reader.
Service

This is by far the greatest publication company I have dealt with. The service provided was just spectacular.
Love it

Easy to read
Rawusht!

The Best book ever! But Hott means wheal! Not fish!
Noble Quran

Thanks guys for fast and awesome service my daughter was very happy with the book.
Very satisfied

Very satisfied with my online purchase
Noble Quran Arabic/English

Received my Quran quickly. Absolutely love it!
Best translation/transliteration!!

This publication of the Quran is absolutely the best to understand the meanings. You can read the text in Arabic, with transliteration and then translation provided in English, verse by verse. It helps you understand the meaning as you go along, and makes understanding simple and easy. Clear fonts and excellent paper quality and hard cover binding, and is indexed as well. It even has a securely attached bookmark. It also lets you know where the recommended sajdahs(prostrations) are. I find the layout of three columns of arabic/transliteration/translation easier to read than horizontal layouts. This book has made reading and understanding the Quran easier to incorporate it into my life. Highly recommend this one if you're looking for Quran with translation.
2nd Quran

I loved this translation of the Quran I gifted one to my sister.
Very satisfied

Great translation, I highly recommend!
Very good quality.

Fast shipping
Noble Qur'an

Excellent
Customer Review

Asalaamu Alaekum! This translation is HANDS DOWN the best translation available to English speakers. With much spoken English words and easy to understand diction, along with transliteration, this one BOOK is enough for a new Muslim, a Muslim learning his or her deen, or someone who has studied many years. THIS IS A MUST HAVE! Please do not waste your time with any other translation, you will lose precious time in this dunya, trust me! barakALLAHu feekum akhuuka fillah Abu yusuf Asalaamu alaekum wa rahmathullah
Customer Review

Assalamualaikum! I bought this Quran for myself and my family after I've seen my brothers [he bought his in Saudi Arabia] and everyone really enjoys reading it. The translation is easy to understand and the transliteration helps in making sure the Arabic is being read properly. Others who have seen this Quran asked where we bought it from.
Customer Review

This is a beautiful Book of the Quran. It is very practical to read it in English, and for those who, like me, don't read Arabic fluently, the transliteration really helps to follow the Arabic script. Size is amazingly well and big [this is not a pocket size]. Arabic script is a bit small though, something I always regret. But overall, a very nice presentation and perfect binding. I strongly recommend it.
Customer Review

My brother has this book and I just used it and the Roman Script is perfect if you are a mid-level or novice reader of Quran. It really help to emphasize particular letters which I sometimes find difficult to spot or pronounce, mashAllah, very useful. The English translation is also well written.
Customer Review

Salam, Alhamdulilah this is a great book, just finished reading it I need 2 more for my son and daughter who recently declared Islam
Customer Review

Amazing! Masha Allah! Excellent translation into English!
Customer Review

This is a beautiful book! I have recently reverted to Islam and I have found the translation to be easy to read and understand. The transliteration of the Arabic is also great because I can use it as a guide to pronounce the Arabic easier Insha-Allah!
Customer Review

I am so very impressed with this product! Mash Allah! I live in a very anti-Muslim part of the United States, and have to keep my reversion to Islam a secret. There is nowhere to find Islamic books in my town, and I am very grateful for this site! This Quran is perfect for new reverts, like myself, who want to recite Quran in Arabic using the transliterations during salah. The book is wonderful and sturdy quality.